Product Summary
The MC33368DR2G is an active power factor controller that functions as a boost preconverter in off line power supply applications. The narrow body SOIC package provides a small footprint. Integration of the high voltage startup saves approximately 0.7 W of power compared to resistor bootstrapped circuits. The MC33368DR2G is optimized for low power, high density power supplies requiring a minimum board area, reduced component count and low power dissipation.
Parametrics
MC33368DR2G absolute maximum ratings: (1)Power Supply Voltage (Transient), VCC: 20 V; (2)Power Supply Voltage (Operating), VCC: 16 V; (3)Line Voltage, VLine: 500 V; (4)Current Sense, Multiplier, Compensation, Voltage Feedback, Restart Delay and Zero Current Input Voltage, Vin1: -1.0 to +10 V; (5)LEB Input, Frequency Clamp Input, Vin2: -1.0 to +20 V; (6)Zero Current Detect Input, Iin: ±5.0 mA; (7)Restart Diode Current, Iin: 5.0 mA; (8)Operating Junction Temperature, TJ: 150℃; (9)Operating Ambient Temperature, TA: -25 to +125℃; (10)Storage Temperature Range, Tstg: -55 to +150℃.
Features
MC33368DR2G features: (1)Lossless Off-Line Startup; (2)Output Overvoltage Comparator; (3)Leading Edge Blanking (LEB) for Noise Immunity; (4)Watchdog Timer to Initiate Switching; (5)Restart Delay Timer; (6)Pb-Free Packages are Available.
Diagrams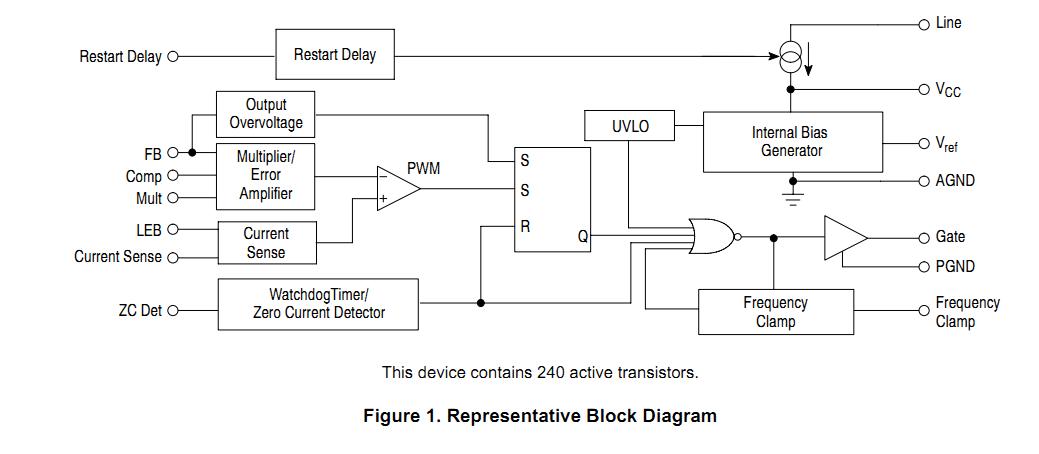 Image
Part No
Mfg
Description
Pricing
(USD)
Quantity

MC33368DR2G

ON Semiconductor

Power Factor Correction ICs High Voltage PFC w/Critical Mode

Data Sheet



| | |
| --- | --- |
| 0-1740: | $0.71 |
| 1740-2000: | $0.66 |
| 2000-2500: | $0.66 |
| 2500-5000: | $0.64 |

Image
Part No
Mfg
Description
Pricing
(USD)
Quantity

MC3302/4

Other



Data Sheet

Negotiable

MC33023

Other



Data Sheet

Negotiable

MC33023DW

ON Semiconductor

Current Mode PWM Controllers Single Ended Voltage

Data Sheet

Negotiable

MC33023DWG

ON Semiconductor

Current Mode PWM Controllers Single Ended Voltage or Current Mode PWM

Data Sheet



| | |
| --- | --- |
| 0-1: | $3.14 |
| 1-25: | $2.62 |
| 25-100: | $1.60 |
| 100-500: | $1.57 |


MC33023DWR2

ON Semiconductor

Current Mode PWM Controllers Single Ended Voltage

Data Sheet

Negotiable

MC33023DWR2G

ON Semiconductor

Current Mode PWM Controllers Single Ended Voltage or Current Mode PWM

Data Sheet



| | |
| --- | --- |
| 0-490: | $1.87 |
| 490-500: | $1.51 |
| 500-1000: | $1.27 |
| 1000-2000: | $1.21 |